maintenance free
Customer Share - Vinyl Dakota Screen Door
"I had to convince my husband that we needed a screen door, since the fold-up temporary screen we had was dilapidated, and flies were getting in. He finally relented, so I shopped on Amazon for one. After measuring our door frame, this Dakota vinyl screen door looked perfect. We live on the coast side, and everything rusts or warps after awhile, if it is made of wood or metal, so the vinyl option was the best choice. Once we got the door, it took both of us to install it (teamwork!), and it looks and works beautifully. No more flies indoors, and a well-ventilated home!"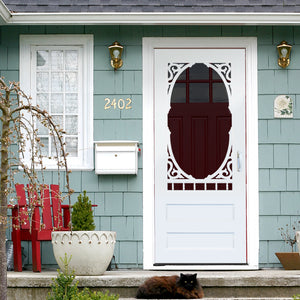 Decadent screen door design in wood or vinyl
Whether you prefer the warmth of wood or easy-to-maintain vinyl, you don't need to sacrifice design. Our two new screen doors boast decadent styling in your choice of construction. Experience the beauty and warmth of wood with our Clarington design. Enjoy a maintenance-free, quality-manufactured and easy to install vinyl door with our Carling design.